DAY 1 – FEELINGS
The folks at Brainpop are giving families free access to all of their resources during this unscheduled break from formal instruction. Go to the site, register as a family and watch your kids learn all sorts of things about history, science and technology! I will use their online "movies" as a jumping-off point some days, but you don't have to use the videos if you don't want to or your home internet lags too much with video streaming. 
Elementary Lesson/Story: Watch the BrainpopJr video about Emotions , read aloud "The Feelings Book" by Todd Parr, or follow along with Storytime Sandi as she reads " The Weather Inside".
Elementary Activity: Ask kids to illustrate their emotions. Can they draw a picture of them doing something that makes them happy? If you have old magazines, kids can also cut and paste pictures of people being happy. Now, have them draw a picture of something that makes them angry or frustrated. (They can also use the cut and paste method from magazines.) Ask kids to complete this sentence: "I am happy when…" or "I can be angry when…"
Eager writers could even write a short story about someone winning the lottery or finding true love. See how many emotions they can include along the way!
Another great idea is use a paper plate and draw eyes and a nose on it. Simply cut a few pieces of string and have your child use one string for the mouth and the other 2 strings for the eyebrows. Ask them to show you how different emotions look. 
* Do you love Snapchat or Instagram? Why not share the tech and let your child join you as you both spend some time making faces and modeling emotions in pictures! You can have fun with the filters, too! 
** LEGO LOVERS! Take a few Duplo blocks or standard LEGO bricks and create a mini-figure face shape. Use a dry erase marker to draw different emotions. Try unexpected emotions like SURPRISED, DISAPPOINTED, OR FRUSTRATED.
Math activities can include practicing skip counting or multiplication practice because we all know that LOVE MULTIPLIES!  Too young for multiplication?  Have them practice adding and subtracting. 
They say not to "Eat your feelings," but when you can make pizzas out of pita rounds or pre-made crusts, it's too much fun not to make your food into faces! Try making a few faces out of pepperoni, cheese, peppers, onions, etc. before settling on your toppings and baking the pizza for lunch or dinner! 
Secondary Lesson/ Story: Watch this TedEd video about why winning the lottery won't make you happier. Follow it up by reading this article about real lottery winners and why they didn't live happily ever after! Find the article HERE. Another great short film is called "The Present." Watch it HERE. How many emotions can you identify in the main character of this short film?
Calculate the odds of winning the lottery HERE.
Then, watch this last Ted Talk about how money can REALLY buy happiness.  Maybe listen to a little "If I Had A Million Dollars" by the Barenaked Ladies afterwards! 
Get some proofreading practice with this coca cola everydayedit 
Explore your personality with this "attitude_latitudes" activity 
Create a flip book of changing emotions.  Don't know how to make a flip book? Click HERE to learn! 
Obviously the whole family could enjoy some movie time and watch "Inside/Out."
Hope these ideas help you work through some emotions while also have fun and learning! 
______________________________________________________________________________________
Day 2 – Making Observations
Making observations is a key skill for learning. When we tune into our surroundings (or our feelings), we can begin to learn more by asking questions, searching for answers and developing our curiosity.
Elementary Lesson/Story: Try these read-alouds with your little one and maybe you'll see the world a little differently!
 Duck! Rabbit! read-aloud


Hey, Little Ant read-aloud


Panda Bear, Panda Bear, what do you see? 

Sidenote: I also LOVE these books! If your library is open, these are great ones to request:  They All Saw a Cat by Brendan Wenzel and Tiny Perfect Things by MH Clark
BrainPopJr has a video lesson about making observations, as well.  You can check it out HERE. 
Activity – Start observing the weather by making a simple weather chart.  This can be used to track the date, weather conditions (cloudy, rainy, windy, warm, snowy) and the temperature. You can even be more specific by tracking dew point, barometric pressure, sunrise, etc. Don't have access to a thermometer or barometer? Use the weather app or website! The great thing about these charts is that they allow you to get into the habit of making the daily observation. Then, once a week or once a month, you can ask your child to measure total precipitation, average temperature, or average rainfall. (Average by adding all temps together then divide by the total number of days recorded.) 

You can make your chart in a snap using notebook or copy paper, but if you want something printable, use Lifeovercs version! Find it HERE. 
Experiment: Make a pinecone to make a weather station! Find simple instructions HERE.  
Family Activity – Gather up a magnifying glass or use your camera on your phone in a pinch. Have kids observe things close-up! Have them draw what they see. It doesn't matter how good the drawing is! Find things all over the house like a chunky blanket, stuffed animal, veggies from the refrigerator or an onion from the countertop. Use language like "It looks like…" "It feels like…" or "it smells like…" These comparisons replicate the way our brains make connections to what we already know I order to learn new things! Doing it out loud reinforces that idea! When you read a story, ask your child, "Does that remind you of anything?" or "Have you ever felt like that before?"
Go for a walk or a drive and play a good old -fashioned game of "I Spy!" Don't know how? HERE are instructions. 
Secondary Lesson/Story – What's the difference between observations and inferences? Watch this video from Teacher's Pet to find out!
The amazing cinematography of series like Our Planet on Netflix or Disney+ make observing our world all the more enjoyable – and no leaving the house required!

But can you really trust your own observations and memories to create an accurate picture of what you saw or experienced?  Scott Fraser argues in this TedEd talk that we can't always trust an eye witness account!
Click HERE to watch. 
Activity: Test yourself! Put on a blind fold (or just tie a sock or kitchen towel around your head like my kids do!) Gather spices, essential oils or extracts from the baking cabinet, as well as any other items from around the house (candles, lotions, soaps, dryer sheets) to see what you can identify. How accurate are you?  Math tie-in: Calculate your accuracy rate! Need instructions? Try this quick video lesson.   
Grab a tray  and fill it with items of all kinds! Big and small, tall and flat! Give everyone in your family 1 minute to observe it. Remove the tray out of sight. Have them write down what they saw. How many items can anyone remember?
Happy observing!!!  
________________________________________________________________________________________
Day 3 – The ALL-AGES BRIDGE DESIGN CHALLENGE! 
Many of you have been asking about lessons that can be done with all ages.  These kinds of engineering challenges are not only perfect for multiple ages, but also reinforce science and STEM concepts while being completely FUN! 
VIDEO/LESSONS – Start by watching this video about the most incredible bridges in the world. This is sure to inspire and entertain!
Watch it HERE. 
Learn the science behind what makes bridges so strong by checking out these resources! 
Younger kids might enjoy this explanation from SciShow Kids.  Check it out HERE. 
For a quick explanation of different kind of bridges and how they work, click HERE to watch this short video.  
Do you like your science lessons to be a little more explanatory? Khan Academy also offers a more in-depth explanation how bridges work. 
Find it HERE. 
Brainpop also offers an engaging lesson on the science behind bridges.  
Click HERE to watch. 
Family Activity: BRIDGE BUILDING CHALLENGE! 
Who can construct the longest bridge? Ask kids to construct the longest (or strongest) bridge possible with LEGOs or building blocks of any kind. You can set the rules. Anything goes! Should it be able to span across the "river" you drew on a piece of paper? Be strong enough to hold the family pet? Maybe you just want to go for length! It's up to you.  If you don't have LEGOs or blocks, you can use plastic straws, popsicle sticks, spaghetti, bamboo skewers (cut the pointy ends off first though!) pencils, or even sticks from the yard. Have kids of all ages draw a picture of what their bridge looks like. Write about their bridge. What are the measurements? What style of bridge did they make and why? If kids had parameters for length or strength, have kids write why their bridges worked (or did not work) and what they could do to improve the results in the future. **Level up the learning by having kids measure the bridges, calculate the difference between the lengths, or explain the science behind their bridge's success (or failure).   
Reading Materials to Support Learning
The folks at Readworks are giving everyone free access to their articles during this unexpected break from school.  Check out the Readworks articles and paired readers about bridges HERE.  Printer not required! 
Read-Alouds
Freight Train video by Donald Crews
Here to There and Me to You, by Cheryl Keely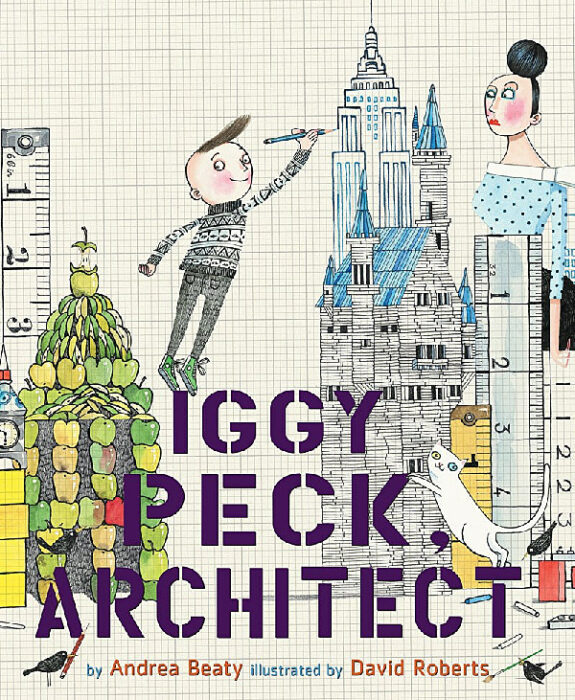 Iggy Peck, Architect by Andrea Beatty 
Rosie Revere, Engineer by Andrea Beatty
Want more comprehensive resources? Check out these favorites:

For younger kids, try Teachers Pay Teachers for this FREE STEM Challenge!
This lesson has instructions, printables and a complete lesson plan. Find it HERE. 
For a deeper dive, TeachEngineering.org has a thorough, standards-aligned unit for k-12, complete with videos and lessons! This could keep them learning for days! 
Find it HERE. 
HAPPY BUILDING!  
____________________________________________________________________________________________
Day 4 – Nature Walks and a Fun Contest! 
Elementary Lesson/Story – Brainpop Jr. offers video lessons on all sorts of habitats! You could fill a week with all of these! Find the Habitat lessons HERE.  You can also watch the lesson about Spring! Find the Spring video HERE. 
I love this delightful video from Peep and the Big Wide World, all about waiting for Spring! They also have a great episode about storms.
I love a good nature walk to get the family together and inspired by the world around us! The best part is that kids can even enjoy a nature walk in their own yard! There is always something to find! * Make sure to bring a magnifying glass or loupe, if you can! Close observation is an amazing skill! 
Read-aloud – What a better way to celebrate a nature walk than this classic read-aloud! 
Going on a Bear Hunt, by Michael Rosen
Other books you might like would include Fun with Nature; Take Along Guide, by Mel Boring, The Busy Tree, by Jennifer Ward, or Swirl by Swirl; Spirals in Nature, by Joyce Sidman.   
Activity – Have kiddos go on a scavenger hunt outside to find signs of spring! You can make your own list, or use this printable that is perfect for readers as well as younger ones who can't read on their own yet! 
Kids can also just record their observations using the simple organizer from weareteachers.com. Just print, walk and record! Large spaces allow kids to write, but also draw.
Find lots of online games to help kids connect with nature on PBS Kids! 
National Geographic also offers a wealth of information on ecosystems! Perfect for 4th grade and up! 
Secondary Lesson/Story – Watch this StudyJams video about ecosystems and answer the questions afterward. 
You can find it HERE. 
PBS offers an extensive, media-filled lesson plan for ecosystems of all kinds.  You can find more about it by clicking HERE.  
Activity – Older kids may also enjoy a nature walk!  Afterwards, try writing a Haiku (or 2…or 10) about your observations! This short, Japanese poem style is almost always about nature and uses vivid imagery to convey a snapshot in time.  Simple instructions for Haiku writing can be found HERE. 
Sakura Cherry Blossoms in Japan
ReadThinkWrite.org has this great printable to help you create a stress-free Haiku! 
Now for the CONTEST!!! 
I'd love to see your Nature Walk Scavenger Hunt pics! I wouldn't mind reading your Haiku poems either!  Email me your pictures and/or poems by  11:59 pm, Friday, March 27th and you will be entered to win a fantastic prize! 
Send them to wholeheartedwdm@gmail.com and be sure to include your name and age so I know which prize to send you!  Winners will be chosen at random and will be notified by email.  Good Luck! I can't wait to see your  pictures and read your amazing poems!!!  
_______________________________________________________________________________________
Day 5 -Freebie Friday! 
Today, I am only going to share a couple amazing resources for both elementary and secondary grades. You can refer back to these any time for ideas and inspiration! 
One of my favorite "tools" to use with kids are these sensory bags.  They make math and letter/phonics practice so much more fun and the pressure kids use to push through the gel, makes them more effective than plain old pencils or pens! 
 Some folks make these bags with cheap hair gel, but since some of us are home with kids and a trip to the store might not be as easy as it used to be, I used dish soap.  Feel free to add glitter to your bag, as well, if that's more your jam! Get creative with them! 
Find the alphabet printable and many other math, phonics and other fun printables  at DLTK.com!
Middle grade students and older kids might enjoy the interactive civics lessons and games at iCivics.org.  Developed with the help of justices Sandra Day O'Connor and Sonja Sotomayor, this comprehensive site is a wealth of information, games and interactive on-line tutorials about everything government related! My kids love this site and I love knowing they are learning about the system of government that is always a topic of the news and conversations!
Let me know if there is anything you want to know more about or would like help with! 
I will archive this week and start a fresh set of lessons next week! 
Stay safe, be well and enjoy the weekend!