Hello! How is everyone adapting to heightened social distancing and continued school closures? Anyone else a slow adapter??? It was difficult for me to get comfortable working from home with everyone else here.  Even though I home-schooled our sons for almost a decade, I wasn't ready to have everyone back at home along with the added noise, distractions and dirty dishes that went along with it! Adding to the stress was moving all of my meetings to Zoom or similar platforms.  I like meeting face-to-face.  I am still pretty so-so on web-based meetings, but we are all adapting to get the job done and get it done well, given the circumstances!
In this spirit of remaining adaptable, I also want to continue to bring you service that meets YOUR NEEDS in a way that works best for you!  The data indicates that folks aren't as interested in mini-lesson plans for each day, so I thought I would change it up and offer new resources each day, but in a streamlined way.  Previously, I tried to choose resources that were gateways to more material, if you wanted it. For example, I used lots of Ted-Ed for older students.  I chose these links because Ted-Ed is offering daily downloads and questions/challenges for students.  In this same way, I chose edHelper last week for math printables, but once you used that link, you could also look through their entire catalog of printables to use.
This week, I will share a favorite resource each day to help give you accessible curriculum for your child(ren.)  Whether you use it, and how, is entirely up to you.
Day 11: Amazon Future Engineer classes
Virtual Robotics classes for grades 2-12
Celebrity Song Remix – use music mixing to learn coding!
Take a Code Break! Use coding to solve puzzles, problems or games each week thanks to Code.org.
Parents can also sign up to receive access to edhesive: the computer science curriculum.  This is a self-paced computer science curriculum for grades 6-12. You can sign-up and learn more HERE.
Let's do something new and fun this week! Happy coding!
Day 12:  Free Math Resources
Math can be a hard thing for parents to teach and to find fun activities for kids, especially while trying to work from home themselves! Here are a few great sites offering printable packets of math resources for your student to work on while they are at home.
 is offering free math packets for grades k-8th grade. They are even tied to your state's math benchmarks, so you simply choose your state and your grade and in minutes, you can have activities at your fingertips! Find it HERE. 
  EdHelper is offering free printable math packets, as well.  Spanning math basics to Algebra Challenges, they have all kinds of math printables to help you keep math skills sharp! Check them out HERE. 
Does your child learn better through videos? The folks at Greatminds.org are offering video-based math lessons for ALL GRADES! They are even including access to their print curriculum.  From Kindergarten to Pre-Calculus, they have got you covered! Find out more HERE.
Have any gamers at home?  The online math and science game site, Legends of Learning, is offering free access to all of their games.  Kids can play in a self-directed mode or parents can assign games for students. Check out their games and read more HERE. 
Hand2mind.com has committed to providing new lessons daily during school closures.  They offer video math lessons, printable manipulatives and follow-up activities for grades K-5.  Find out more by clicking HERE.
Hope these offer some new alternatives for a variety of learners and families!  As always, reach out if you have specific questions about how best to teach your child!
Day 13/14: Brain Games For The Whole Family
While some children thrive with structured curriculum, others struggle to learn in a home setting.  That's okay! Try working on daily brain games to start shifting the lens of learning away from structured lessons or written work, to more thought-provoking challenges.  Additional benefits include their ability to be used by all ages (parents included), their non-linear nature forces kids to use critical thinking skills, creativity, and problem-solving skills at the same time! Try using brain games or riddles once a week!  It's like yoga/pilates for your brain!
MindAntix is providing weekly challenges each Monday. Find them by clicking HERE.
TedEd offers a library of clever video riddles complete with solutions and explanations. If you haven't seen them yet, I highly recommend them! They are great for watching as a family and you can pause the videos to give everyone a chance to weigh-in with an answer.
You can watch them on YouTube or find them all HERE.
  Sheppard Software has a site full of brain games, riddles, and puzzles! It is super old-school in it's look and feel, but the code-breaking, the puzzles and the games are a nice break for everyone from the stresses of work-school-quarantine routines.  Guilt-free and good for my kid's brain? That's a winner! Check it out HERE.
Tech-Free Idea: Make a Collage! 
Get out the magazines, newspapers and catalogs.  Sit down with a pair of scissors and a glue stick and make a collage.  Technically, you can dress up this idea by using photos of your own, assuming, of course, that your pics aren't all on your phone.  This old-school idea is actually a great way to "relax" your brain while allowing it to practice sorting skills, making connections and organizing, which, in turn, nurtures your creativity.  I do love me some multi-tasking!
Day 15: Let's Watch Something! 
Fridays are a great day to coast into the weekend and enjoy some unstructured time spent learning from the couch…in your pajamas…with a warm bowl of popcorn to share!  Here are some fresh ideas of movies or shows to watch this weekend!
Elementary Options
Brainchild: This Netflix show features short episodes answering all kinds of questions that kids ask adults, like "where do my thoughts come from?" and "is there such a thing as good and bad germs?"
If I Were an Animal is a delightful Netflix show for the kids in your household that love baby animals! Each episode follows four critters from birth to adulthood and the show is narrated by two children, Emma and her brother, Tim. To quote the New York Times reviewer from 2018, "It's chill, it's cute, it's not annoying, and there are genuine science facts alongside the oohs and aahs." Sounds like the perfect show to put on while you nap alongside your child on the coach!
The Boy Who Harnessed the Wind is a film based on the children's book by the same name. This movie tells the real-life story of William Kamkwamba, who saved his village by inventing a windmill.  If your child likes the book or the movie, you can go to Teachers Pay Teachers and order more activities for them HERE for only $1.50.
Middle School and High School Options
Exclusive to Disney +, Expedition Mars: Spirit and Opportunity, tells the epic saga of the Mars rover program and how these machines, that were originally created to only last a few months, lasted for years, exploring the weather, the landscape, and the famous craters of Mars.  Kids who enjoy this show might also like watching the movie, "The Martian," starring Matt Damon, or reading the book, by the same title.  Disclaimer: The book is heavier on science and cuss words.
Another great option for Disney + subscribers is Disney Shop Class. This show relies on the traditional model of teams competing in shop-class style challenges to win the final prize:the Title of Shop Champions. A similar show would be Hulu and NBC's hit, Making It, starring Amy Poehler and Nick Offerman.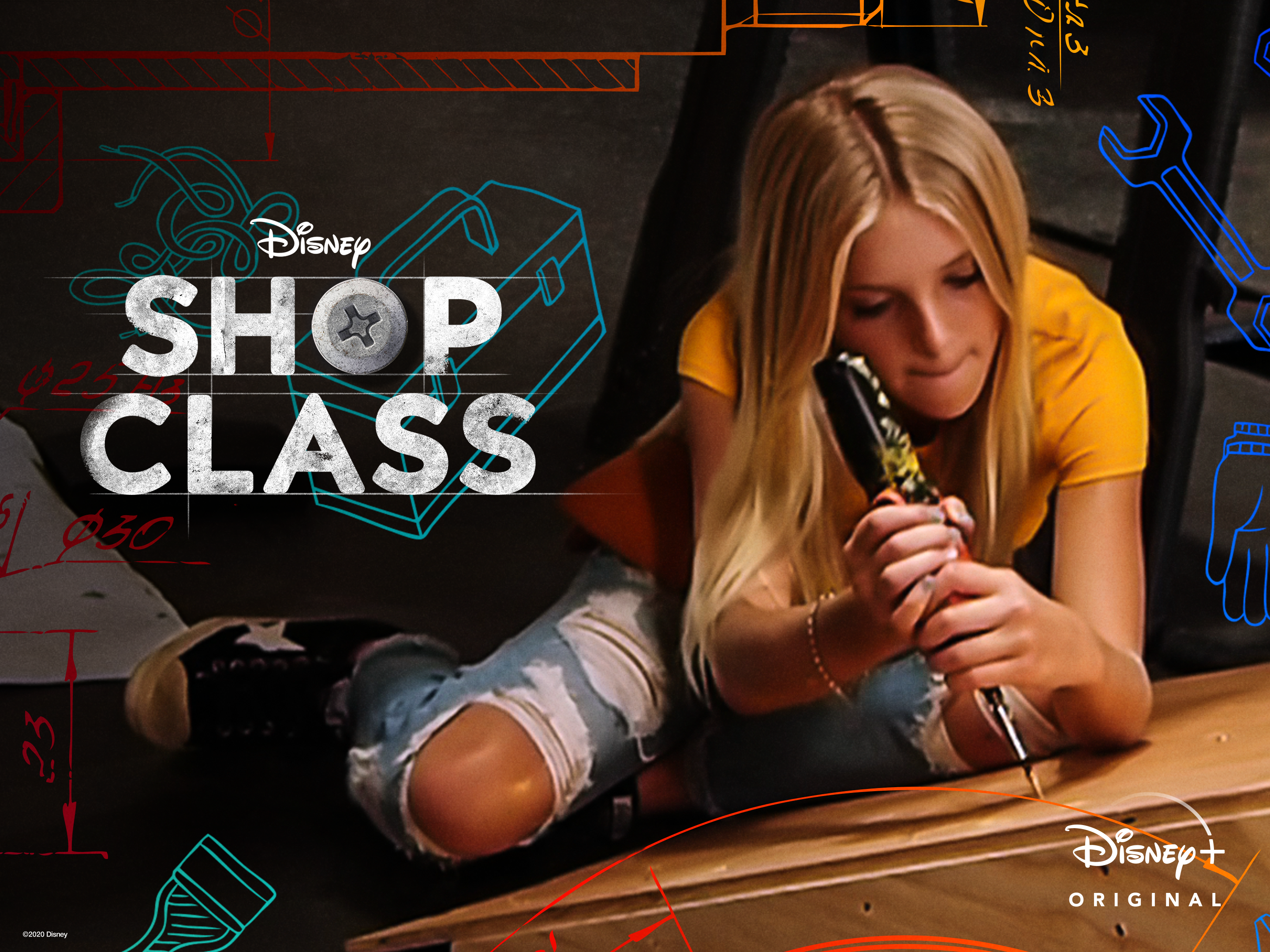 Dead Poet's Society is the timeless tale of a class of young men, attending an old-fashioned boarding school in New England, and their passionate English teacher who inspires them to rebel against convention and seize the potential of every day.  This title is currently only available on Amazon Prime video ($3.99), VUDU and YouTube. 
Hoop Dreams may seem just like a sports documentary, but some have called it the best sports documentary ever made! If you have aspiring athletes in the house or even just a Kobe Bryant fan, this could be just the thing for you!